2019年12月12日
Your earpieces are an important accessory of your mobile phone. You need to clean it from time to time for the device audio quality and your ear health sake. Here we would like to share some tips about how to clean and maintain your earpiece with you. We hope our tips would be helpful and make your earpiece better working for you.
1. Use cloth and alcohol or soapy water
Get a piece of clean cloth, cotton or fiber are ok, then a glass of warm soapy water. Dip the cloth with soapy water to wipe the earpiece cover. If your earpieces are
Apple series earpiece
, mesh on the cover will be accumulated with gunk and dirty after a long time using without cleaning. Remember do not immerse the earbuds into the water for washing, because it will damage the internal elements and cause it broken. Don't try to tear down the earpiece.
2. Use cotton swab and alcohol
As to some
ear-in canal earpiece
, we can use a cotton swab dipped with alcohol for cleaning. Dirt, filth, and dust in the earpiece mesh are hard to cleanout. We can use a wet cotton swab to wipe them away. Using alcohol for sterilization is a good choice here. One thing we have to notice is that we should be careful and don't let the alcohol penetrate and damage the internal parts.
3. Use toothbrush and soapy water
If dirt and filth are really hard to clean, we may use a toothbrush for wiping. Use the soft fiber bristles toothbrush to wipe the dirt and dust away from the earpiece mesh. If the accumulated dirt and filth are blocked, dip the brush with soapy water for wiping. After the dirt is wiped away, use cloth for cleaning.
These are earpiece cleaning tips we would like to share with you. As the final suggestion, cleaning your earpiece and sealing it in the polyethylene pocket or plastic case is good for your earpiece's maintenance. If you are tired of cleaning, wearing them with ear tips would be a good idea. Any good ideas about earpiece cleanness and maintenance? Leave your comments below, we appreciate your sharing.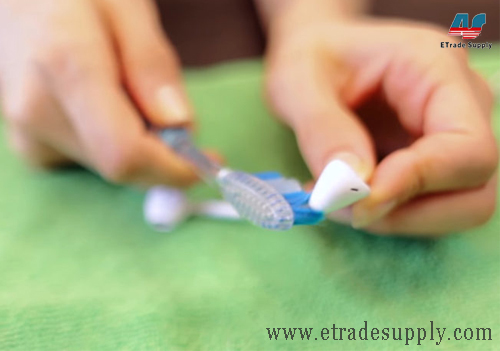 Article resources from Etrade Supply Blog of
How to Clean and Maintain Your Earpiece?