2019年09月26日
The iOS 13 has brought so many new easy and convenient ways on our iPhone usage. Here we would like to share three new ways of sharing photos and links on message texting. We know that the process of sharing photos or links is a little complicated in the former iOS version. It would be easier if you have iOS 13 software installed or you have iPhone 11 or iPhone 11 pro used after you learned these three ways.
1. Smart sharing suggestion
When you share something on iOS 13, there will be a recommendation of who to share in a sheet to you, along with available AirDrop devices. This also works well on the third party social apps massages like Facebook Message or Snapchat.
2. A new way of sorting Apps and shortcuts
There will be a long column of option in the share sheet below the contact and app suggestion. This will make you a good way of sharing photos and links. You can choose what you are sharing and where you are sharing it from. There will be options like adding a link to bookmarks or setting a photo as a wallpaper. If you have installed a shortcut application, this will make you much easier to edit photos or direct links on the list.
3. Edit your sharing lists
You can still edit and rearrange what apps or options are displayed in the Share Sheet. For app suggestions, scroll to the left until you find the Edit button. Select it, and then turn on or off each app you want to show up in the sheet. Besides, you can choose what you don't want to share. It's quite convenient.
These three tips will make your message texting easier and quicker. For more about features of iOS 13 please refer to our blog on our website
www.etradesupply.com/blog
. By the way, we have new arrival iPhone 11 parts
for iPhone 11 pro max LCD screen and digitizer assembly replacement
. Please check it out in our store or contact us if you have interests. You may also leave your comments if you have new tips about iOS 13. We appreciate your sharing.
2019年09月25日
Apple release iOS 13 to iPhone on September 19th. This powerful operating system brings more than 20 features to our iPhone. Here we conclude the top 10 features of these and we hope it could be helpful for you to understand iOS 13 well. Let's check this out:
1. Dark mode: two different visual versions to wallpaper and Apps
2. New Animoji and updated Emoji: to make your unique emoji with specifics
3. Privacy enhancements: show your location in Apps or not, it's optional to you
4. Redesigned volume HUD: easy to control your volume on screen
5. Quick path typing: make your text typing so much quick and easy
6. New reminders App: make your daily arrangement in good order in items and tabs
7. New Find My App: make it easy to find your friends or family via location sharing
8. Rebuilt maps App: the most intelligent 3D map in iPhone as Google view
9. Redesigned photos App: make your photos in-stream and editable with more adjustable effects
10. Apple Arcade: more mobile phone games provided in a low monthly price
These 10 features are the most amazing features that iOS 13 brings to our iPhone. We suggest you try some if you have your iPhone upgraded to iOS 13. Also, you'd better learn something about iPhone maintenance as well as the internal structure and parts. Here we provide new iPhone X parts for
iPhone X LCD display screen and digitizer assembly replacement
in our store. Contact us if you have interests or leave your comments if you have problems.
This article is resources from Etrade Supply blog, for details please go to
www.etradesupply.com/blog/
2019年09月20日
Sometimes your iPhone XR's would be damaged on the charging port after water damaged. You will need to replace it with a new one. Here we would like to show you how to replace an iPhone XR charging port in steps. Let's check it out below:
Step 1: Teardown the phone
1.1 Take out the SIM card tray and snap off the two screws on the bottom
1.2 Separate the screen with ultra-thin plastic cards and a suction cup
1.3 Twist off the two Phillips screws eight Y-type screws
1.4 Take out the protection metal boards, disconnect the battery cable, the display flex cable, touch flex cable, ear speaker flex cable
Step 2: Remove the Loudspeaker and Taptic engine
2.1 Remove the black adhesive, twist off the 14 Philips screws and 5 cross screws
2.2 Take out the single cable, the SIM card holder
2.3 Snap off the two cross screws and take out the loudspeaker
2.4 Disconnect the Taptic engine and take it out
Step 3: Remove the motherboard
3.1 Disconnect the signal cable, charging port cable, wireless charger, dot projector, front camera, cellular antenna, IR camera, power button, rear camera
3.2 Take out the motherboard
Step 4: Remove the charging port flex
4.1 Twist off the two Phillips screws and cross screws
4.2 Disconnect the flex and take out the charging port
Step 5: Install the new charging port flex
5.1 Place the new
iPhone XR charging port flex
and connect the flex cable
5.2 Screw back the two Phillips screws and cross screws
5.3 Install the motherboard back and connect the flex cables in step 3.1, except the battery flex
5.4 Install the SIM card holder, connect the flex cable and screw back the screws
5.5 Install the Taptic engine back
5.6 Install the single cable and 7 screws back
5.7 Install the charging port, connect the display screen flex cables and battery flex cable
Step 6: Check the charging port
6.1 Turn on the phone and plug the charger to see if it is normal charging
6.2 Test the screen of the touch response
6.3 Disconnect the display and battery, cover the screen adhesive
6.4 Install the display screen and connect the flex cables in step 1.4
6.5 Seal up the screen the phone, all process done
The whole process is a little complicated which requires our carefulness and patience. If you are not confident about yourself, we suggest you go to the repair shop. There are new
iPhone XR replacement parts on sale
in our store, you may take a visit if you are interested. Any questions about the steps above, you may leave your comments below. We will reply to you as soon as we see it.
2019年09月18日
Your iPhone XS or XS Max has more powerful functions than you know as long as you keep discovering. Since Apple upgrade the operating system to iOS 12, iPhone XS and XS Max are faster on application response. Maybe you think yourself of an iPhone master who knows everything about iPhone using tips, but there are some special tips you skip and which will be simple and useful to you. Here we discover 10 tips about iPhone XS and XS Max and we hope these could be helpful to you.
​
​1. How to quick unlock Face ID: Settings >> Face ID & Passcode >> enter passcode >> turn off "require attention for Face ID" >> tap ok when the little warning pop up
​2. Swiping back to quickly delete wrong digits in calculator
​3. Tell Siri to generate random passcode for you
​4. Half pull the Wi-Fi network list for manual refresh
​5. Check your battery usage in the monitor
​6. Add cellular in cellular plan
​7. High-level compass in measure application
​8. Search lyrics in Music App
​9. Website icons tweak in Safari
​10. Tell Siri to show all your passwords
​
​These are the 10 tips we would like to share here. Hopefully, you would learn much from these tips and make iPhone XS/XS Max a good tool in your daily life. Besides, if you are really a big fan of Apple products, you may also learn some maintenance knowledge. Here we suggest you take a view on some iPhone XS/XS Max replacement parts in our store like
iPhone XS LCD screen and digitizer assembly replacement
. You may also contact us if you have questions on iPhone repair or iPhone internal parts.
Description above is from Etrade Supply blog of
www.etradesupply.com/blog
, if you have some tips about iPhone, please leave your comments below and share. We appreciate that.
2019年09月11日
Motorola Moto One Zoom launches on the US and Europe market in September. This smartphone model new smartphone model is special for powerful quad-camera system and large HD+ display screen. Will it be our good choice in the 2019 smartphones? what differences does it make to us? Let's see the specifics about Motorola Moto One Zoom below:
1. 6.4' large OLED display screen
2. Powerful quad-camera system
3. 25MP front camera
4. 4G RAM, 128G storage
5. Snapdragon 675 chipset
6. 4000 mAh battery
7. Android 9.0 pie operation system
8. 3.5 mm headphone jack + Type C USB port
Motorola Moto One Zoom has the best internal operation system, and the sales price is reasonable. This smartphone will be hit in the global mobile market. We're sure the features of this phone model above will be attractive to you. Anyway, it's recommended to get to know some Motorola internal parts if you are a big fan. Here we provide
Motorola Moto G 5 small parts
on our site and we suggest you take a view. And also, you may contact us via email if you have interest in our Motorola parts.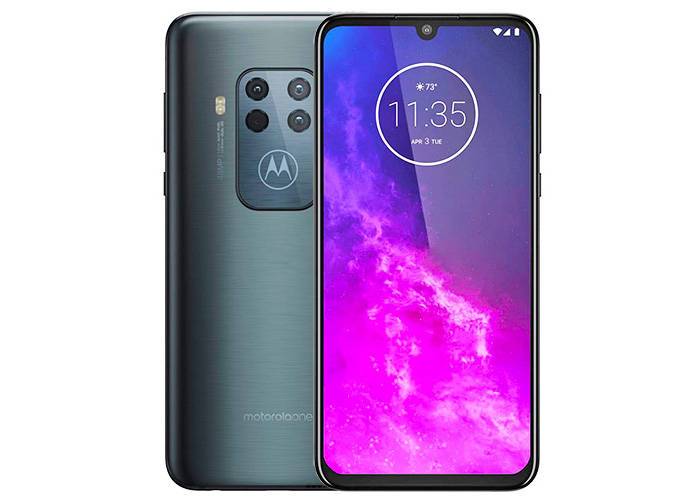 This article is quoted from Etrade Supply blog, for details please go to
How Much Do You Know About Motorola Moto One Zoom?
2019年09月06日
Huawei Honor 8X is one of the great smartphone models in Huawei. This model is special for extra-wide screen cover and great looking external color. With its 1200M HD rear camera, we can make our photo and video taking splendid. Since we all know the features of Huawei Honor 8X, we should also know something else about Huawei maintaining. Here we would like to share you how to replace Huawei Honor 8X front camera. Let's get started.
1.Power off the phone and take out the
Huawei Honor SIM card tray
with ejection tool
2.Hot air gun blows the back cover, use a suction cup and a thin plastic card to separate the back housing
3.Pry up the back housing after separated, disconnect the fingerprint scanner flex cable
4.Snap off the 7 silver screws and 11 black screws, which are all Philips screws
5.Remove the Plastic frame with a spudger and a triangle plastic opening tool, disconnect the battery flex cable
6.Disconnect the front camera cable, take out the camera and earpiece with tweezers
7.Install the new front camera and the earpiece as well, pay attention to the position of the contactors
8.Connect the battery cable and reboot the device
9.Test the new camera's condition
10.Install the plastic frame back, don't forget to paste the adhesive back cover on it
11.Connect the fingerprint scanner cable back and seal up the back housing
12.Insert the SIM card Try, all process complete.
The whole process is simple, just be careful if you try to do it by yourself because the back housing is fragile. Get all the tools ready beforehand and the new front camera as well. Anyway, we hope our demonstration above will be helpful to you. You may go to our store to check out our new parts
for Huawei Honor 8 front camera replacement
. Contact us on
Sales@etradesupply.com
if you have question or interest in our Huawei mobile phone parts.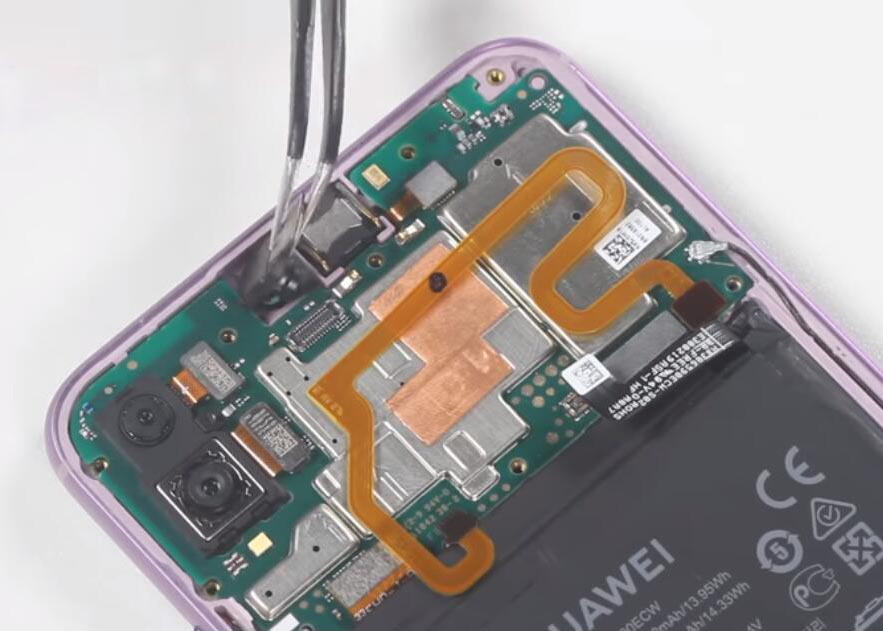 2019年09月05日

Samsung Galaxy A80 is a great smartphone model
in this year. The most impressive for this mobile model might be its pop-up
rotating cameras. Since this Samsung model has been released in the global
market, you might be interested in what's the internal structure inside this
smartphone as well. Here we make a specification about Samsung Galaxy A80
teardown, hope you will learn more about this Samsung A80 from our
demonstration below.


1. Power off the phone, take out
the SIM card with the SIM card eject out tool


2. Separate the back housing with
a plastic triangle opening tool and thin plastic sheet


3. Twist off the 14 Philips screws


4. Remove the top cover


5. Disconnect the battery cable, the
signal wire ports, the mainboard cable which connects with the speaker assembly
and charger port


6. Remove the two black plastic
covers on both sides


7. Twist off the six Philips
screws so that we could remove the camera assembly


8. Snap off the five Philips
screws and remove the mainboard


9. Disconnect the camera cables and
separate the mainboard, so that we can take the process of the rotating cameras
teardown


10. Remove the bottom cover


11. Disconnect the mainboard cable,
the fingerprint reader cable, the screen cable, and the two signal wire cables


12. Twist off this Philips screw,
lift and remove the charger port module


13. Snap off the two screws and
take out the fingerprint reader


14. Remove the plastic tab, and the
squirt thermal pad and the vibrator motor as well




Since the
rest of the parts are closely connected, there is no point to go on further
disassembly about this device. Teardown of the screen and frame refers to our
previous article of Samsung S7 LCD screen replacement in our blog. Anyway, we
should make catalogs on the parts and screws so that they won't be in a mess or
lost. You may go to see more about our Samsung
Galaxy Note 9 replacement parts if you are interested.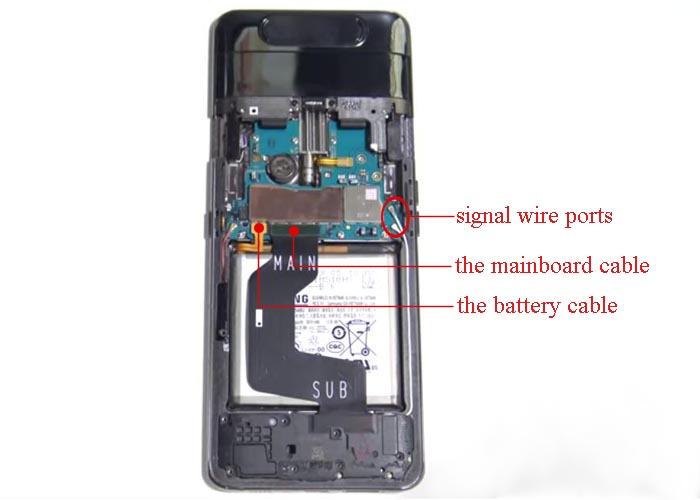 Article
is quoted from Etrade Supply blog of How
to teardown Samsung Galaxy A80 and reassembly